Welcome to Traditions In Movement
Offering regular yoga classes and workshops in Maryland, Virginia & Washington DC. Aikido instruction is available at the Northern VA Ki Aikido dojo. For more information, or to receive our newsletter, send us your request by clicking here.
NEWS & UPDATES:
Steve is leading the following virtual classes during the pandemic:
*Sunday's Noon - 1:15 PM EST - Hatha Yoga through
Radiance Yoga Online.
*Monday's 12:30 - 1:30 PM EST - Chair Yoga through
Camp Springs Senior Activities Center 301-449-0490.
*Tuesday's 5:30 - 6:45 PM EST - Hatha Yoga, a donation based class. Contact us for info & invite.
*Yoga Nidra - Usually scheduled monthly, 7:00 - 8:15 PM EST
More Info .
Yoga Nidra teacher training in the Washington DC Area during 2019 - 2022.
Please visit the workshop page for more info.
Steve is a longtime teacher/contributor to Insight Timer, the world's most popular meditation app. Here is a sample.
You can now also find his guided meditations on the Danish
OliOli
app, which has recently added an English language section.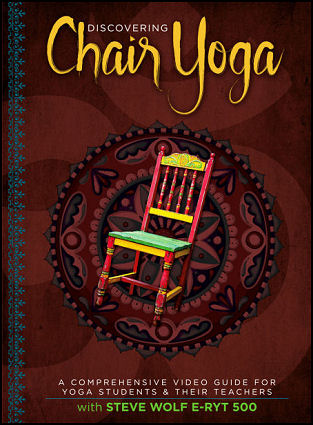 After nearly two decades of teaching Chair Yoga classes and workshops, you can now learn this important practice on DVD:
Discovering Chair Yoga

A Comprehensive Video Guide For Yoga Students And Their Teachers

This Extended Play DVD Includes:
Over two hours of video including more than 60 individual
video segments, many featuring multiple variations.
Nine programmed classes of various lengths from gentle to
moderately challenging, all with easy to follow instructions.
Extensive menus arranged by category to help you easily
discover new teaching ideas, or create your own sessions.
Guided breathing and relaxation exercises.
Supporting music by acclaimed World Music Artist,
Tom Teasley.
To purchase or find out more visit Awase Publishing. or Amazon.com
"This is the best Chair Yoga Practice I have seen" -- Cheryl Malone, Amazon Vine Voice
Watch these previews from the Discovering Chair Yoga DVD.
Relax Deeply - Sleep & Breathe Deeply - Two Pioneering Yoga Nidra Recordings
"Relax Deeply" & " Sleep & Breathe Deeply" are the first two recordings in Steve's "Relaxation" series. "Relax Deeply" was one of the very first classic yoga nidra CD recordings available to the public, and "Sleep & Breathe Deeply" was the first ever recording to use yoga nidra techniques to promote restful sleep. Both recordings include deep relaxation sequences in the yoga nidra tradition. Written and narrated by Steve Wolf, both also include music by keyboard artist, Cleve Wehle. Please click on the title links to read reviews and purchase them at Amazon.com, iTunes & CDBaby.com.
We have been informed that Steve's acclaimed Yoga Nidra recording "Relax Deeply" is currently being used as part of the pre-op routine for cancer patients at the Johns Hopkins, Weinberg Cancer Center.
Brilliant, Soothing, Deeply Felt "There are a lot of yoga nidra titles, and an abundance of titles that invite you into the notion of a good night's sleep, but this album really does combine the aspirations of both sub-genres quite well. First there's Steve's voice, which is deeply felt, soothing and steady. The tone and rhythm of this recording allows you to yield control to the direction of a great teacher. Five Stars." Marty M. - Review of "Sleep & Breathe Deeply" from CD Baby.com.
Read a review of 'Yoga Nidra for Kids of All Ages' in Yoga Journal Magazine!