Home > CD's & DVD's
Awase Publishing Presents
---
---
Savasana

The Art of Deep Relaxation

"I played your Relax Deeply Yoga Nidra in class today. People loved it. I loved it. I love your voice. Great pacing. Very well done!" --Erich Schiffmann - Author: Yoga, The Spirit And Practice Of Moving Into Stillness

"Steve Wolf is the only meditation guide I use. He is just born to do this." --Iris - Insight Timer Review

"Best meditation I have done in a long time, will make this a regular. Namaste." --Garth - Insight Timer Review
Almost two thousand years ago the yoga sage Patanjali reminded us that when we still the mind and relax the body, we are then in our natural state. The ancient practice of Savasana has been passed down to us as a tool for helping us return to this place of deep stillness and relaxation. Simply lie back and listen as you are guided to return to your natural state where your body and mind can recover from the stresses of modern life. It is in that stillness that your inner voice can speak to you. Give yourself the gift of Savasana.
CD Contents:
A Sitting Meditation – 7:51
A New Paradigm – 19:01
Come to Your Senses – 17:29
I Am That – 16:12
---
Yoga Nidra for Kids of All Ages
Yoga Nidra for Kids of All Ages
"Amazing CD for Kids & Grown-ups! I am a yoga instructor and always looking for beautiful and inspiring cds and this one far exceeded my expectations. I am also a mother of four young children and the fact that they love it too is a completely wonderful bonus! Even my two-year old twins will lay down in Savasana and relax to this cd. This is a wonderful gift to give anyone with children or grandchildren or anyone with an interest in yoga." Kathleen M. Moore, yoga teacher
Recently published studies now verify what the ancient yogis have long known: The introduction of yoga methods to the young can endow them with life-long skills for coping with life's challenges. Even small children can learn to use yoga meditation and breath techniques to settle the mind and body. This recording features Emily Gretz, narrating three meditative stories, appropriate for all ages. The Yoga Nidra techniques woven into these stories will heighten your inner awareness while systematically guiding you to the deepest levels of relaxation. While there is something here for all age groups, since publication many have reported that both parents and their younger children enjoy the experience most when they listen together.

Also included is a bonus track featuring an updated version of the classic "Sixty One Point" guided relaxation exercise which was arranged and narrated by Steve Wolf.

Click here to read a great review of this CD in Yoga Journal.
Click here to read a great review of this CD in The Capitol - Hometown Annapolis.com.
---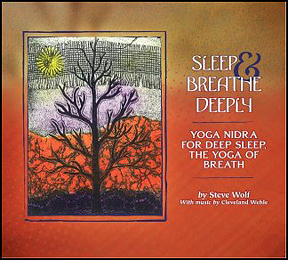 Sleep & Breathe Deeply
Yoga Nidra for Deep Sleep, The Yoga of Breath
"This is my new favorite Yoga Nidra CD. As someone who has lived with insomnia for years, I count on a variety of relaxation in the evening. But, this CD goes above and beyond. From the lovely music, to Steve's compassionate and lyrical voice, to the wise content, I love "Sleep & Breathe Deeply from start to finish. After listening, I not only sleep longer, but there is a deeper quality to my sleep. The breathing practice is also lovely and it is a good way to connedt deeply with the breath any time day or night. In all, this CD is a great gift" Mary Davis, yoga teacher, Health Advantage Yoga Center - Herndon, VA
Sleep & Breathe Deeply contains two practices. The first is a deeply relaxing, twenty minute guided breath meditation to use anytime during the day. The extended second track harnesses the power of traditional Yoga Nidra meditation to help you find the profound level of relaxation necessary for quality sleep.
Track 1: Introduction - 1:36
Track 2: Sitting With The Breath - 20:13
The oldest form of meditation is almost certainly the act of observing the breath. There are now countless meditation practices and variations, but focused breath awareness endures as an invaluable tool for releasing tension and strengthening the union of mind and body. "Sitting With The Breath" is designed to first relax, and then open the body to a deeper, more natural breathing pattern. With even a few minutes of daily practice, you'll become skilled at recognizing and responding to your body's inner cues. This will empower you to change the way you react to stress. The proven benefits of regular meditation practice also include enhanced alertness; better sleep patterns, and improved overall health.
Track 3: Yoga Nidra for Deep Sleep - 50:00
There has been extensive research on the effects of sleeplessness, but we don't need the scientists to tell us the importance of getting a good night's sleep. Yet, when it's time for bed, it can be a challenge to turn off the accumulated stress of the day. Even when we do manage to sleep, stress often prevents us from getting the quality of sleep we need. The ancient technique of Yoga Nidra has recently re-emerged as a powerful tool for addressing this modern day affliction. On this recording, a backdrop of soothing music and natural sounds combine with specially adapted yoga nidra techniques to guide you toward a deep and satisfying sleep. Play this track anytime you feel the need for a deeply relaxing Yoga Nidra style practice, but don't forget to set the alarm.
---
Relax Deeply

With the ancient practice of Yoga Nidra

"The best CD of its kind that I've heard, and I've listened to a lot of them." Dr. Olga Rasmussen, yoga teacher, Health Advantage Yoga Center - Herndon, VA.

"You did a fantastic job with this project…the end product is without blemish. The thing that I noticed right away is that you just sound natural …kind and caring like you're right there." Cathy Plato, yoga teacher trainer and founder of Yoga West - Katy, Texas

"Great for anyone who travels a lot and spends time waiting in airports in frustrating queues. These practices help regain a sense of equanimity. Steve Wolf is the perfect guide." Steve Denning, Forbes Magazine Online
Relax Deeply is a new guided "Yoga Nidra" relaxation CD written and narrated by Steve Wolf with background music by the gifted keyboard artist, Cleveland Wehle. The ancient meditation practice of yoga nidra is a proven methodology offering not only relief from the tensions and pressures of our times, but the means to actually change life patterns.
The technique is simple: Just lie back and listen while you are guided systematically to a place of profound physical and mental rest. As tension melts away, the body regains its natural state of wellness, and the mind enters that pre-dream state between sleep and consciousness. Although yoga nidra literally means yogic sleep, or "sleep of the yogis," it is most effective when a level conscious awareness is maintained during the practice. It is here in the fertile ground of the subconscious mind that the trans formative power of yoga nidra unfolds enabling you to plant the seeds of your life goals at the deepest levels.
Competitive athletes at the international level have long used visualization and auto suggestion techniques to improve focus and performance. Yoga nidra is perhaps the most advanced of these techniques, and it offers the additional benefit of opening the body at a deep muscular level allowing it to heal and grow stronger following training sessions or workouts. You don't have to be an athlete to realize these benefits. Anyone can use this method to improve the quality of his or her life.
There are two complete sessions on this CD. The first is a fifteen-minute practice that can be used anytime you need a restorative timeout. This shorter practice is also perfect as a final relaxation at the end of a home yoga workout. The second is a traditional forty-five minute extended yoga nidra session. It employs a full array of effective techniques for relaxing the body and rekindling the power of the subconscious. For maxium benefit, many senior yoga teachers and therapists recommend that an extended yoga nidra session be performed at least once a week.
CD Contents:
Introduction – 3:43
Fifteen Minute Guided Relaxation – 15:41
Forty Five Minute Guided Relaxation – 46:10
---
Quantity pricing is available for teachers, studios, health professionals and other vendors.
For information send us an e-mail.

Awase Publishing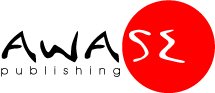 A'wa'se: [Japanese] Joining or binding together, oneness, community. In yoga this idea is expressed through the Sanskrit word, sangha. In the martial art of aikido awase is a term for blending or harmonizing with one's opponent.